Community Energy Grows as School Gets Ready to Launch Mid-Winter
ALEXANDRIA, VA — Celebree School of Alexandria had its official groundbreaking ceremony of its Welcome Center on Thursday, October 20th at 11am. Surrounded by over 50 city officials, community members, Celebree corporate employees, family, and friends, Owner/Operator Mohammed Ali took the microphone to express his gratitude, enthusiasm, and vision.
He shared how Celebree will fill a dire need for the surrounding community, which is searching for high-quality childcare education opportunities as we are emerging from the pandemic. Also, with the Amazon HQ2 in Arlington and the planned 2024 opening of Virginia Tech's Innovation Campus, additional families will be looking for schools for their children.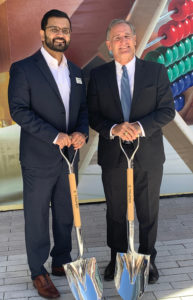 "Alexandria is starving, like everywhere else in the country, for quality childcare and early education," said Kevin Cosimano, Principal with Stonebridge Development, the developer for Celebree. Cosimano has over 36 years of experience in real estate development and construction management.
"There are moments like this… is why we do it, when you put a job together and you visualize it, you don't know exactly how it's going to shake out. It starts way in advance of what you are seeing here. You are always looking for those cornerstones, and Celebree is that cornerstone," Cosimano said. He went further to say that what struck him the most, early on when researching Celebree was the passion, in addition to words like village and community.
As Richie Huffman, Celebree Founder and CEO, presented Ali with his official owner badge, he expressed how wonderful Ali represents the Celebree brand and commended him for all his work thus far. Celebree has 47 schools that have over 90 territories, which will be built over the next five years. Twenty are currently in various stages of development. Each franchisee owner has the ability to open two to three more schools. Virginia has additional schools in Tysons Corner, Ashburn, Reston, and Henrico, and this newest one in Alexandria will make five.
"The community and the passion that everybody has for this as we are getting ready to embark on this adventure is amazing," School Director Jana Behm said.
Joe Haggerty, Alexandria Chamber of Commerce President and CEO, also remarked on the tremendous need of the school with the future growth of the area. He explained how the Chamber wants to spread the word about Celebree.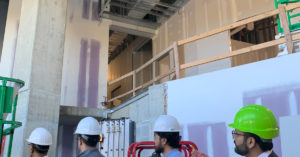 After opening remarks, Celebree officials passed out hard hats, and everyone took a tour of the school, still under construction. The opening is planned for later this winter.
Ali's excitement showed through as he described the lobby we were standing in, the location to the side where the infants room will be and the rest of the classrooms. The building, owned by Bozzuto Properties, is managed under the direction of Kim Grossbard, who was present at the ceremony.
Grossbard explained how the children's playground will be on the 6th floor terrace of the building, surrounded by fencing for added security. Safety is of utmost importance at Celebree, Ali says, mentioning that parents are assigned individual pin numbers for entrance into the building, via only two sets of doors.
For additional information on enrollment, please contact Mohammad Ali or Jana Behm here.
Article Courtesy of the Zebra Press
https://thezebra.org/2022/10/23/celebree-school-groundbreaking-ceremony-for-welcome-center/